Conclusion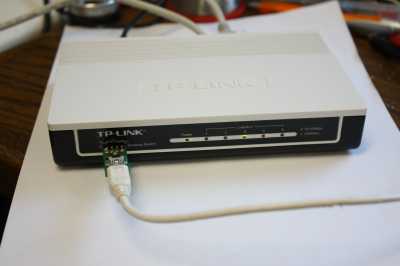 The result of my hard work is a switch that can be configured to segregate, tag and untag vlan-packets on all different ports, just like the E80 stock 5-port managed switch I would have to buy instead, and all that for E17 plus a few quid on parts. Ofcourse, for that money you don't get a nice web-interface or whatever remote accessability, but for a switch living sitting nearby a workstation that's usually not needed.
The source code of my hack is, as usual, licensed under the GPLv3 and can be downloaded by clicking this link. It fills out the ATMega88 almost completely and still isn't as userfriendly and featureful as it could be: this is partially because I don't have the datasheet so I don't know where most of the registers are. It's also partly because I only need the VLAN-functionality and am too lazy to implement the rest. As usual, if you come up with an improvement on my code, I'd appreciate an e-mail. In case you have a RTL8369SB or -RB in your (8-port) switch, you can probably adapt the code for that too: it's the same beast but with 8 usable ports instead of 5.
If you have v5.x of this switch, the code doesn't work anymore because the chip in it is an RTL8367. Luckily, Bercik has made a
version
that works on those chips.
33 comments